Please find a message from Eddie Hughes MP below: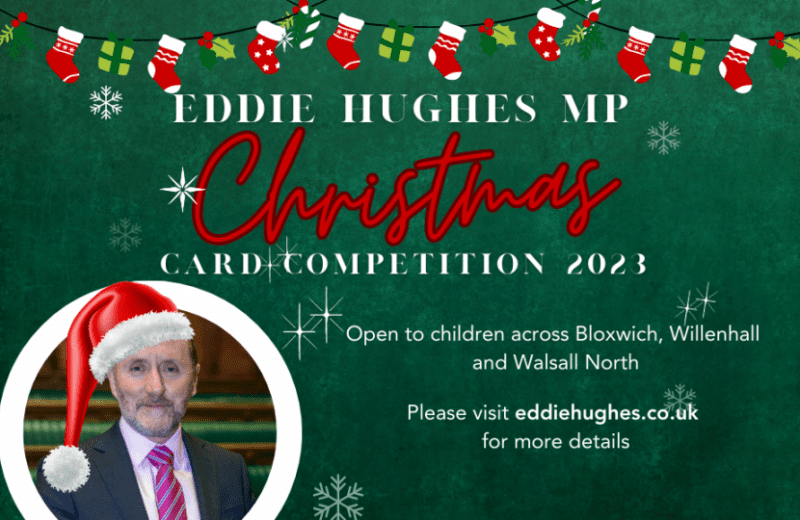 I am delighted to launch my annual Christmas card competition – an opportunity for a talented young artist to design my Christmas Card for 2023.
The winner of the Walsall North Christmas card competition will win an exciting prize as well as have their design sent to the Prime Minister and to organisations across Bloxwich, Willenhall and Walsall North.
This year, the Mayor of Walsall will assist me in judging the designs and the lucky winner will be invited to the Mayor's Parlour with their family for tea and cake.
In previous years, competition winners have even featured in the local news, and last years winner Jahmia and her parents said it was a huge boost to her confidence and I am pleased that this opportunity allows our young people to explore their artistic side.
THE RULES…
Please ensure the designs are kept within the box on the template and, as tempting as it may be, please avoid using glitter and cotton balls. The finished design must be able to be scanned in. Please ensure the form on the back is also completed with the pupil's full name, school, age, year group and home address (if possible).
The competition closes on 22nd November – Please drop off entries at my office in Bloxwich (74b Park Road, Bloxwich, WS3 3SW). Alternatively, please get in touch with my team and we can arrange for your school's entries to be collected.
Printed templates will be sent to your school in the post. However, you can download the template below:
I look forward to receiving as many entries as possible from across Bloxwich, Willenhall and Walsall.
As the local MP, it is always lovely to visit schools across the constituency – especially during the festive period. If you have any Christmas events on  in your school this year, please do let me know.
Please submit all entries to Miss Kew by Friday 17th November. Miss Kew also has printed copies of entry forms in her classroom in the Art block if you would like to collect one.