Pool Hayes Academy are proud to be hosting two events to raise funds for Macmillan Cancer Support.
On Friday 29th September during morning break, we will be holding a Macmillan Cake Sale in the undercover areas of our outside space for students, where they can purchase a cake for between a 10p and £1 donation.
We will also be holding a Macmillan Coffee Afternoon on Friday 29th September. We are welcoming all parents, carers and members of our local community to join us in our library 2:45pm – 4pm for hot drinks, delicious cakes, surprise performances and a raffle!
All funds raised from both events will go to Macmillan Cancer Support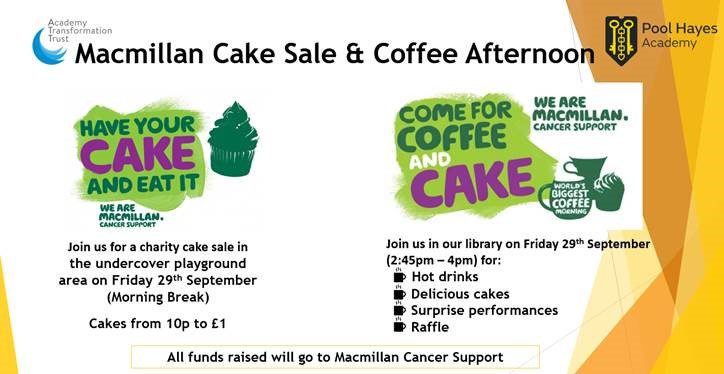 If you are able to donate any shop brought cakes or biscuits for our cake sale and coffee afternoon, please drop them off at reception, our library or student support from Wednesday 27th September. Thank you in advance for supporting such a worthy cause